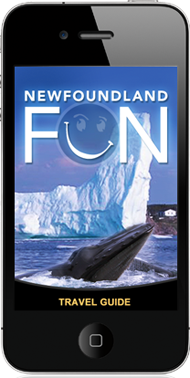 This area lets you explore NewfoundlandFUN screens and views:
Pictures
Pictures

The Pictures screen contains a plethora of amazing images. Special thanks to local photographer John King!

This image illustrates the picture screen for the deluxe version which you can access in a slide show fashion. The slide show speed can be adjusted with the settings button.

You can also review the pictures with a fun "swipe & slide" view where you can review the images with the flick of your finger at your own pace.
Must See
Must See

This screen features must see places across the island. The places are categorized by region (Eastern, Western, Central) for your convenience.

You can drill into any place for details as described in the next section (Must See Detail)
Must See Detail
Must See Detail

The detail view provides a brief description for your reference.

You can also drill into a map view to simplify navigation, or review the website directly in the detail view.
Festivals
Festivals

The Festival Screen gives you access to a variety of festivals on the island. The festivals are listed the same way as the Places view. The image to the left depicts the festival detail view.

You can select any entry and drill in to view the Festival details as depicted in the illustration.
Fun
Fun Screen

The Fun Screen gives you two flavours of fun - "Local Lingo" & "You're from Where?!".

"Local Lingo" is a Fun section that includes many of the popular local sayings & their meanings

"You're from Where?!" is a place where you can learn the names & locations of some infamous towns & places like"Virgin Arm" and "Famish Gut". This section includes 50 of the funniest names, plus a map feature so you can locate them. Join the many tourists who stop to get a photo taken next to a funny sign!