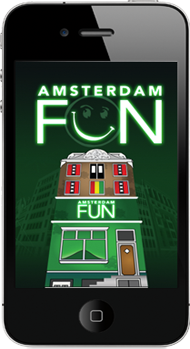 This area lets you explore AmsterdamFUN screens and views:
Fun
Fun

The Fun screen contains a great listing of fun things to do in Amsterdam.

This image illustrates the fun screen for the deluxe version which you can access in a categorized fashion or toggle the list for all fun.

In the categorized list you can drill into a list of specific fun, from there you can drill into the details for a fun item. In the all fun list you can drill direct into the details for a fun item.
Fun Detail
Fun Detail

The Fun detail view lets you hone in on the details of a specific fun item. You can review the description, address, and area.

In addition, you can also:

Show the location on a map
Mark the item as a favourite
Visit the website
Phone the location
Faves
Faves

The Faves screen lets you quickly access any fun entries that you have marked as your favourites. Click the edit button to manage your favourites.

Here are a couple other interesting notes about favourites in the app:

Map Screen: Toggle faves to filter items on the map.
Random Screen: Toggle faves to filter results.
Map
Map Screen

The Map Screen gives you all the fun entries the Fun Screen does, but in a Map view.

You can select any entry and drill in to view the Fun details just like in the Fun screen too! There are options to toggle the map type and show your current location.

Satellite view in conjunction with activating your current location is very helpful in targetting those hard to find venues.
Random
Random Screen

The Random Screen gives you all the fun entries the Fun Screen does, but allows you to access them randomly for when you are feeling adventurous or indecicive.

Simply knock on the door or shake it up for a random suggestion. Toggle the fave star button on to restrict to favourites only.

You can even play music in here - tap the various glass for different notes - perhaps even create your own little ditty...