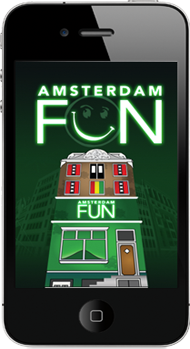 AmsterdamFUN is your key to a fun experience while visiting Amsterdam. This city is brimming with countless things to do, see, eat and enjoy - many of which are listed in this app.
This app is exactly what you need for a fun time in the city. Just pick your activity and consult the sophisticated mapping feature to easily find your way.
Not sure where you want to go? No problem, just shake your device or knock on the row house door for fun ideas. You'll be offered a randomly chosen suggestion that might just be the perfect way to spend your day or night.
AmsterdamFUN is available in a deluxe version in addition to a lite version.
The lite version gives you access to the entire app with a sample of the data. You can upgrade to the deluxe version at with an in app purchase at anytime to receive 10x the content.
With the deluxe version you'll know exactly where to find over 80 fun local cafes, places to relax, yummy snacks, markets, museums, nightclubs, biking tours, and more. It's all here, conveniently located in one place at your fingertips.